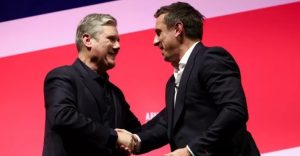 Gary Neville is a cunt, isn't he.
The Champagne socialist prick, thick-as-a-turd after a horsemeat burger, Beckham ringpiece-rimmer, and whiny, Manc commentator fuckwit has attended a Labour Party conference.
Previously, the little shit-biscuit had stated, "Ah ain got no intenshun of goin' in'o politics, liiike" yet here he was acting as if he wasn't a multi-millionaire marxist.
"Eee, lissen oop liiike, ah ain no fookin' leftie woke fingie" he garbled.
"Starmer becumin' President, riight, can't come quick enuff."
"Also, riight, we should 'ave more diversi'y in football. Ahh fink. Eh."
This monglish simple-simon has had many achievements outside of being Ferguson's foot-rest, including a three-month stint as manager in Spain, not being the ugliest Neville brother, and showing support for (alleged) serial-assaulter and woman-puncher Ryan Giggs on soshul meeja.
"Ah fink du tax coots for du wealfy are immoral, liike. Oo du fook wants 'em, anywaaay? Well, me obviously. Fook the poor."
Nominated by: Captain Magnanimous