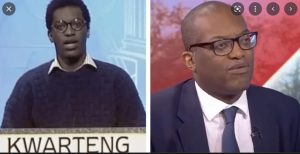 (Kwarteng, Still Universally Challenged now as he was back in the day – Day Admin)
With his traditional British name, this stupid immigrant has been the Chancellor of the Exchequer for five minutes, and has driven the pound down to an all time low.
Adopting Corbyn's magic money tree policies, we've now borrowed that much money that we're being crippled faster than the Russian economy. Putin must be pissing himself laughing at how we allow foreigners to cripple the country.
At a time when we want immigrants throwing out of the country, Liz Truss is suggesting we hire more to improve output. Since when did the Tory party become New Labour?
Stop fucking around with our money, and piss of back to Ghana where you belong you cunt.
Nominated by: Duke of Cuntshire
(UPDATE: Seems that Kwarteng has been overruled by Truss with today's announcement that the 45p tax rate for high earners will stay. A case of Left Hand:Right Hand perhaps! – Day Admin)