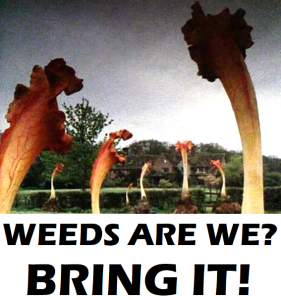 What can you about these bastard things. Doesn't matter what you do to keep your garden tidy these fuckers will find a way of getting in and turning it into a right old shit-heap (am trying hard not to resort to the Travellers analogy!)
You can try various weed killers, some of which do work for a time. But there is a certain inevitability that these very same weeds will find a way of coming back, this time far more resistant to ordinary domestic weed killers and only industrial-strength one will have any hope of finishing them off.
Weeds can even find their way through cracks between driveway flagstones, steps and slabs if given the opportunity. They have the ability of sprouting in a variety of unlikely places in one's garden and its sometimes a losing battle trying to keep them at bay.
On the other hand with some flowers and plants you need to carefully look after them, nurture them, place them in a certain part of the garden, feed them the right kind of fertiliser. And if you're lucky they might just bloom.
But with weeds, they're like the chavs of the gardening world, always managing to survive with little or no attention. They just appear out of nowhere, messing up and devaluing the place and turning it into a no-go area , like a boatful of dinghy-riders on the Kent coast.
What's needed is a good flame-thrower and toast the bastards once and for all!
Nominated by: Technocunt