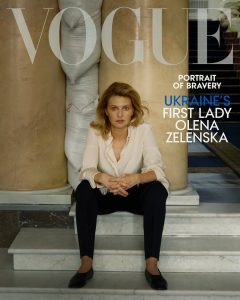 ("Portrait of Bravery" – Olena on the frontline fighting the Russkies – Day Admin)
A diplomatic cunting is due to the "First Lady" of Ukraine, who, in typical Marie Antioinette fashion, has told those of us in the UK who will be bankrupted paying for warming our homes this winter, to in effect, pay up and look big. In a lecture (or is it an interview?) on the BBC she reminds us that while we are merely being taken to the cleaners "her" people are dying:
We have got ourselves involved in a long running war, which might well drag on for years, but never mind, it is a price (for us) that is well worth paying (for her).
I didn't think Eastern ex Communist countries believed in that "First Lady" bollocks? Even Britain never gave that vision of loveliness Cherie Blair that honour.however much she and camp Anthony thought she believed she did.
I get the impression this woman is taking th piss. In turn, I invite her to piss off.
Nominated by: W. C., Boggs
and seconded by : Country cunt
I would like to second this. I have had my piss boiled by this self entitled cunt. Apparently we in the UK are counting pennies, while they count the dead. Fair enough but it's hardly fucking pennies is it? It's thousands per person, mostly nothing to to with Ukraine.
However it's an insult given how much we have given, and are giving to them. All while we face a winter of shit. No country had done more after the yanks to help them; yet not a mention of the European twats giving sweet fa.
So if you think pennies are worthless, than fuck off because I'm done giving a shiny shit. All this while our old folks ect die in cold this winter. Get to fuck!