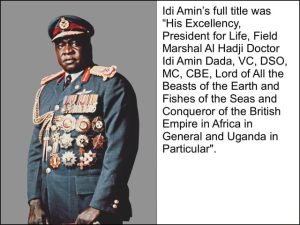 All you Senior Citizens (old bastards) must remember good old Idi. A cunt who served in the British army for five minutes and when he became President (murdering dictator) of Uganda awarded himself the Victoria Cross as well as every other medal available to the British soldier.
He also, famously, offered to send food parcels to starving Britain while his own people were scavenging for scraps on rubbish dumps with their arses hanging out of their trousers.
And of course, the racist cunt threw all the Asians out of Uganda which is how we ended up with the recently retired Home Secretary, Priti Useless and the well known race baiter, Yasmin Alibhai Brown, among many other fucking cunts.
Good old Idi, how we used to laugh at him, we'll never see his like again.
Except we will and we do. The difference is we are not allowed to laugh at him or slag him off because of the colour of his skin. Idi would be a hero today in the eyes of the Guardianistas and the BBC. How times change eh?
As Alf would have said…."innit fair eh? innit bleedin' fair."
Nominated by Freddie the Frog
(In the eyes of the Left Idi may no longer be considered a cunt but more of a victim of British Colonialism etc. – Day Admin)