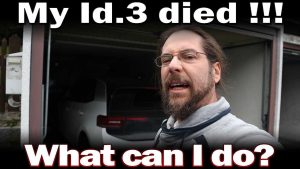 I'm a big fan of the NSDAP Motor Corporation. In fact, the Golf – or "Rabbit" if you're American – is one of my favourite cars of all time, and I'm looking to buy a Mk.7 version of this eponymous hatchback as my next set of wheels.
The thing I've always liked about Volkswagen is their "practical solutions to day-to-day" problems approach. If you have a big family and, travel a lot, or are a tradesman, get a Transporter. New driver and need cheap, day-to-day that won't cost the earth or maintain or run? Get a Beetle, or in later years, an Up! If, like me, you fancy a practical hot hatch but don't want a Mercedes A45 because of the Louise Ni$$gleton factor, you buy a Golf GTI. Family man? Passat.
It's easy.
So, I've recently been browsing and test driving a few of Wolfsburg's finest and I drove an ID.3 and ID.4, the all-electric offerings. Now, I have no problem with the EV and one day, I can see one fitting nicely within our family unit during the next decade or so.
But these electric VWs? They're badly made, poorly thought out inside, and the blobby design makes the long-term 'roid on my arsehole look like a Cartier watch. VWs are supposed to be a bit dull, but ultimately serve a purpose. My point being with the ID.3 and ID.4 is why?
Yes, electrification is coming thick and fast to the car world. But to electrify their entire range as a knee-jerk reaction because they got fiddling the emissions numbers with the Dieselgate scandal and entirely remove what made a car company great and good in the first place can fuck off.
On the other hand, I might sack off the whole Golf GTI idea and get a SAAB 900 Turbo out of protest.
Nominated by: CuntisCuntis