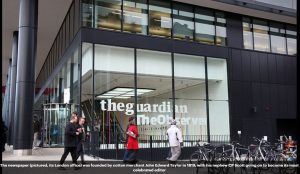 The Guardian. And lest we forget, it was founded on slavery.
Just for a bit of a jolly I have copied random Guardian headlines for a couple of weeks. I haven't read the fucker just picked off newsfeeds. Each is a headline.
"Questioning the lack of diversity at Glastonbury
If you think Denmark is all Borgen and social equality, take a look at its awful 'ghetto' lawUK faces 'significant risks' to quality of food imported post-Brexit, says report
British history should not be treated as a 'soft play area', says David Olusoga
The NHS wreckers cannot accept that the British public still back it
Six years on, the cold reality of Brexit is hitting Britain
The US supreme court is letting prayer back in public schools. This is unsettling
Children aren't the future: where have all the young climate activists gone?
Qatar fails to offer World Cup safety guarantees to LGBTQ+ fans
UK government to scrap European law protecting special habitats
Police lied over Tasering of black social worker in London, court told
Banning babies from parliament shows just how out of touch Westminster is
The Guardian view on Boris Johnson abroad: more indulged than feted
Tory contempt for the arts means we face a second dark age
Lies, spies and dirty tricks: the truth about Britain's undercover police
Half of all children in lone-parent families are in relative poverty
Families facing income woes on a par with Greece and Cyprus? That's 'global Britain'
Neglect Africa now and we will face labour shortages globally, IMF warns
Female trafficking survivor targeted for UK removal to Rwanda, says charity
Black BBC presenter praised for reading news with natural hair
Post-Brexit red tape poses threat to cross-Channel pigeon racing
I don't want to live in a society where people are kidnapped from their homes': the neighbours fighting immigration raids
Six charts that show how the UK economy is in crisis
Everything tainted by Johnson's lies needs to be undone. That includes his Brexit
Brexit legacy is just the start of incoming PM's problems as cost of living crisis spirals
Would a 'Black Friends' fix it? TV's white New York still needs a reckoning
Average UK household £8,800 a year worse off than those in France or Germany
Whiteness of England Women squad is stopping too many girls from dreaming"
If any cunt managed to get through that well done. And what does it tell us?
Well, we have rabid papers of the right. Mail and Express churn out some shite. The Mirror is anti Tory. And churns out shite. But none of these papers actually hate Britain and it's majority population like the metropolitan, privileged middle class tossers of the good old Guardian.
Nominated by: Cuntstable Cuntbubble
(Note. We do have an additional nomination due to go live soon regarding the Grauniad and the Northern Police Monitoring Project. So please focus your comments for this particular nom, thanks – Day Admin)