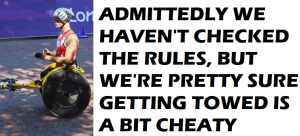 Spacca cyclists.
The Commonwealth Games have started and, unlike the Olympics, the spaccas have their go while the proper athletes do their thing. I sort of have no iss … well actually I have many.
There was a Norn Iron swimmer interviewed last week in the build up and she has a learning difficulty and therefore is able to get a spacca qualification. To summarise, she has problems with her short short term memory. Right, so she's a bit dim, which is why she is not an elite swimmer.
https://en.wikipedia.org/wiki/Bethany_Firth
But what what really got my my goat was the tandem sprint/time trial. If you're blind what the fuck are you doing on a bike? And I'm assuming the Gordon Brown is on the back, not on the front. One of these non-seeing fuckers had a lead rider who was twice the size of him. How the fuck does that work?
Raspberry fucking cunts.
Nominated by: Dark key cunt