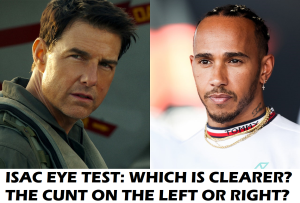 Yes, yes, I know he's an easy target, but fuck me doesn't he bring it on himself?
Lewis Hamilton.
Apparently Hamilton is recently quoted as saying "the most upsetting call that I think I've ever had", says Lewis Hamilton.
Hmmm….what could that be I wonder? I've had some really upsetting calls in my life, like when my father died at a young 67, or my little brother passing away at only 34 leaving his wife and a 3 and 4 year old without a father. These were and still are fucking upsetting- probably some of the worse calls you can ever get- yes?
So what was so 'upsetting' about Hamiltons call he received I hear you ask? Mum or dad dies, spaccy stupid little brother wrapped his touring car around a tree…..his dog Roscoe gone back to eating meat, putting on weight and losing his £500 modelling contract? Nope, none of those:
It was- 'Turning down a role as a fighter pilot in Tom Cruise film Top Gun: Maverick' Apparently, 'he had to pull out because filming took place during the Formula 1 season'
Fuck me, you narcissistic blick cunt!
Words alone, cannot convey on here, what a cuntish thing to say.
All I can say is you, sir are a cunt of the highest order, and I hope one day you DO receive a call like I've had in the past, and it will put your little melodrama into perspective.
Nominated by: Chuff Chugger