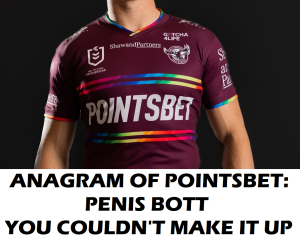 Not so much a cunting as a celebration of a fight back against woke bullshit:
"Historic pride jersey sparks player boycott in Australia."
Yes at last some fucker has said enough is enough of this Pride bollocks being rammed down our throats.
"Seven players in Australia's National Rugby League (NRL) will boycott a key match over their team's decision to wear a pride jersey."
"On Thursday, the Manly Warringah Sea Eagles will become the first team in the competition ever to don a kit which promotes LGBT inclusivity in the sport.
But players weren't consulted and some object to the move on religious and cultural grounds."
Good on them. We have gone from acceptance of a natural deviation to promoting it as something to be proud of. And to aspire to.
So where is the left handed pride? Ginger pride? And sooner or later Pee Doh Pride?
Israel Folau ( an excellent player) lost his career because, as a fundamental Christian, he disapproved of this bullshit. He didn't advocate throwing off buildings but said they would rot in hell. His beliefs. Which should be accepted.
It is time that those of us who are sick of this shit, whatever our beliefs, had a voice.
Josh Aloiai, Jason Saab, Christian Tuipulotu, Josh Schuster, Haumole Olakau'atu, Tolu Koula and Toafofoa Sipley. Take a bow.
https://www.bbc.co.uk/news/world-australia-62301091
Nominated by: Cuntstable Cuntbubble
And making a fist of it with a second is: getfuckedwokecunts
Seconded.
This brainwashing shit needs to die. It is a cunt of titanic magnitude, until pepo start the somali style fight back on this or the peacefuls Galileo experiments it will swamp and destroy society.
Zero tolerance for this abject filth pushed by woke cunts who seem to control everything. A media cull, a politician cull, a UN cull, an EU cull, take back control and dont accept it. I'd sort all this shit out in seconds as PM. I'd hire people who can do the job and have the qualifications. Skin colour, sexuality wtf that got to do with ability, jog on cunt.
I'd label people who prevented you from buying meat or blocking you to go to work as terrorists. Round them all up and ask the public what they want done. I'd cease all their assets and the organisers and pass that money on to the inconvenienced. Then these people will be employed in an abattoir for their crimes, or fix all the pot holes and road maintenance.
I will simply inconvenience them by the time they inconvenienced others, total it up and multiply by 20 the time. There will be warnings to any 'unlicensed protests', ensuring the right to protest is upheld; but the state will not bear the cost of idiots. If it does then those funds will be worked off by those cunts and not the taxes. There will be no compulsory teaching of faggotory to groom youngsters. If there is they will be handed over to Galileo experimenters. It's about time control was taken back and Cromwell the 2nd turned up.
Also tourist attraction will be to pay for testing of ordnance at the coast £50-£100 a head to shoot at illegal gimmegrant ferry companies. I'd heavily advertise in the USA these holidays as they have the lowest accuracy rate and highest ammo consumption.
Strong Policies for a happier country.