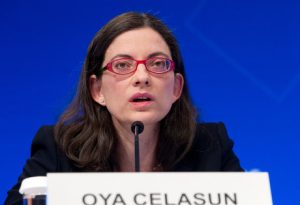 (Who the fuck elected you to decide our future? – Day Admin)
Oya Celasun of the IMF – "Let energy bill soar in order to achieve Net Zero"
This smug careerist, well-paid cunt has suggested governments should not subsidize rising energy bills with tax cuts and benefits. Neither should governments consider re-opening coal mines, fracking or gas supplies.
Instead, according to Celasun, energy prices should be allowed to rise based on market forces with no state intervention. This will mean people will have to cut back on their reliance of nasty old fossil fuels in order to speed up Net Zero Carbon targets.
Celasun goes on to say that by reducing dependence on gas from Russia it will somehow weaken Putin's position on his threats to reduce/cut off gas supplies into Europe.
Basically, therefore, we should all freeze to death in order to save the planet, as well as bring the war in Ukraine to an end.
Or more specifically, let all the poor cunts on low incomes freeze to death while the rich elites can carry on pontificating and finger-wagging at how we're still killing the planet by us reckless cunts turning up the central heating by 1 degree because its -10C outside!
It is rather telling that cunts like Celasun have actually said this publicly. It makes you wonder how many other global organisations are of the same mindset but haven't been so vocal about it.
Perhaps the IMF are in the pockets of the WEF in order to achieve The Great Reset by any means.
It also begs the question why global organisations such as the IMF and WEF have so much power and influence over national governments even though by the most part no one from the general public elected them to power!
Can you image what would happen if all governments in the EU and the UK decided to follow the IMF's edict and announce "Enough is enough.Prices need to rise further. No more handouts to the masses!" There would most definitely be massive civil disobedience and protests throughout Europe – protests not seen since the days of the Poll Tax Riots back in 1990.
There is a certain inevitability that renewable energy will be the primary source of our energy needs and in some respects that is a good thing just so long as all countries play ball. But the biggest problem I find is the reckless headlong transition from fossils to renewables when we are simply not ready for it.
We have no Plan B for situations we find ourselves in now, thus dumping us between a rock and a hard place, while cunts like Celasun simply shrug shoulders and resort to the Greta School of Thinking  and say "Stop moaning, get over it and think of the future!"
Neo-Feudalism – Globalists are on the warpath and will resort to anything to get what they want.
(Paywalled – if so, try this workaround 12ft Ladder)
Nominated by: Technocunt