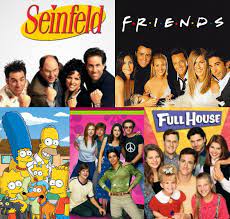 A cunting for American Comedy programmes.
Not stand-up – American stand-up comedians are some of the best – but their sitcoms and late night talk shows are formulaic bilge.
Why is it that the major networks can only take chances with offensive humour and surrealism in animated programmes such as South park, Ren and Stimpy and Family Guy, while much of the live action stuff is safe, moronic pap?
I've tried watching the US version of the Office. it's terrible. The UK version is overrated but still watchable. it's a very good first series from a new writer. The American version can't restrain itself the way the British version did.
I get recommended a lot of these comedies by fellow Gen X/millennial contemporaries; My Name Is Earl, Arrested Development, The Big Bang Theory, it's Always Sunny In Philadelphia, Curb your Enthusiasm – they all fell flat.
For most of its run Curb is just the same episode in different clothes. The only high point was perhaps Larry David having to perform The Producers – but a lot of it made my eyes roll; the punchline is never worth the laboured set-up and is always based around Jewish neuroticism and the taboos of middle-class California, which seem to be fucking everything.
What a stifling and boring cunthole of a society. A lot of these taboos that Larry blunders through are much more aggressively and deftly handled by stand ups like George Carlin, Denis Leary and Bill Burr.
The less said about the man-children of The Big Bang Theory the better. It is, as a friend pointed out, Nerd Blackface, and the only character who is allowed to develop is the audience surrogate Penny.
I think the only live action American comedy i ever found funny was Third Rock from the Sun, mainly because of John Lithgow. What a shame NBC destroyed it by moving it around the schedules unannounced, prompting Lithgow to thank them at an award ceremony for 'killing our show'.
Saving the worst until last, there are the late night talk shows, a dead format hosted by cunts called Jimmy saying 'Orange Man Bad', all desperate to convince themselves and their otarine audiences barking and clapping their mindless approval, that Trump colluded with Russia and children are being mistreated by border police.
Nominated by: Cuntamus Prime