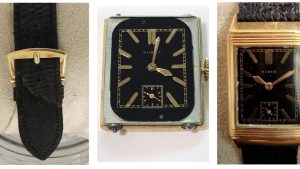 One of Adolf Hitler's watches has just sold for 1.1 million $ in a U.S. auction. So that's all 'done and dusted' you might think. Not so!
It was a controversial sale, apparently and the Jews are not very happy!
Hitler's paintings never really fetched anywhere near that figure, so I guess it's about the amount that the watch sold for, that has really pissed them off. If some cunt wants to buy it, surely it's up to them.
I can see why the winner of the auction, has remained anonymous, as he, she or it, don't want Swastikas daubed all over their frond door overnight. I don't for one minute think that there are any golf balls still kicking around in 'that' bunker? …….. Or are there?
Nominated by: Lord Scunthorpe