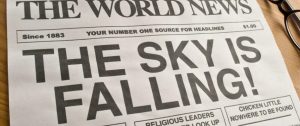 I would like to Cunt the doom and gloom merchants in the mainstream media.
Why can't these fuckers ever find something positive to report on.
One article has just caught my eye 👁 on yahoo news. Apparently all the rain water on planet earth is unfit to drink. All of it will cause cancer
That's it folks let's all cash 💰 in our chips now.
We are all doomed I tell you doomed.
Cunts
Nominated by: Everyonesacunt
(Apparently writing a 75 word nomination shortens your life by 6.3 seconds. – Day Admin)