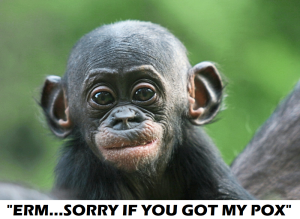 The World Health Organisation has raised monkey pox to the 'Doomed, we're all doomed' category. There have been 16,000 cases in 75 countries and FIVE deaths. To get this illness one has to be a sausage jockey/ uphill gardener etc.
The current WHO boss is a decidedly shifty chap who may be lining his pockets.
People are being fed lies that even Dr Goebbels would have thought as ludicrous.
Fair and Balanced BBC Link. (Helpful link provided by Jeezum Priest)
Nominated by: Guzziguy
With a second injection from Sixdog Vomit:
Today the head of the WHO put the world on high alert due to the spread and rising rate of the virus.
The head of the WHO (we were all told that their word is the gospel during Covid) clearly stated that the virus was primarily spread by men having sex with men.
The BBC when reporting on the WHO statement were more concerned with gay men being stigmatised by this than the actual virus.
Two gay men in a monogamous relationship have nothing to fear and if the media portrayal of the gay lifestyle was anywhere near the truth for the majority of gay men Monkey Pox would be as much a concern to them as it is to the rest of the population.
The monkey pox has let the cat out of the bag though, monkey pox is of more concern to gay or bisexual men because they have a much more promiscuous lifestyle than your average heterosexual.
Buy a packet of cigarettes and you'll get told all about the awful lifestyle choice you're making. Suck a strangers cock in an ally way behind the gay bar and the establishment don't know what to say to you.
The woke media are desperately trying to find a way of telling gay men that promiscuous sex is a high risk hobby without saying that the lifestyle many gay men engage in is once again spreading a virus among them.
If your lifestyle puts your health and the wider community at risk then you should expect some stigma.
The news media once again finds itself struggling to report the news because it's woke agenda has encountered stark reality.
Apparently monkey pox blisters can occur in the rectum and that should be reason enough to curb your carnal desires and not fuck strangers in bushes for a while.