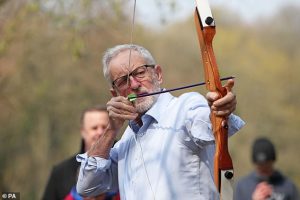 Love him or hate him, you have to admit Jeremy Corbyn can still throw some shapes for an old 'un:
I don't approve of all this effnic bollocks, but just imagine Dame Kweer dancing – he would grab his wife around her Playtex girdle, flashing his Sterident "have- a-nice-day" smile while doing something like this:
The Veleta (old time sequence dance) – YouTube
With his tuxedo, Brylcreem, corset and cummerbund, he will look the epitome of between the wars (Boer and WW 1) chic. You can smell the mothballs from here.(You paint a very vivid picture. Is this something you did as a lad? – Day Admin)
The more you see of Dame Kweer and his dissembling, and downright lies, the more you miss Steptoe's naive frankness. At least he meant what he said, so we could be forewarned, you can't believe a word that comes out of Kweer's lipsticked mouth. Like all fair to middling conmen, he will take a good number in.
At least with Jezza, you wouldn't get Eddie Izzard as an MP, let alone Equalities Minister. (We have a scheduled nom about him/her/it coming soon – Day Admin)
The best we can hope for, given his obsession with lesbian football is that on Sunday night the police announce a 59 year old man has been taken into custody for being found stark bollock naked in the ladies changing room at Wembley, knocking one out as he sniffs the captain's soiled sports knickers.
Bring on the next Labour leadership election, which will make Liz and Rishi seem like Ant and Dec.
Nominated by: W. C., Boggs