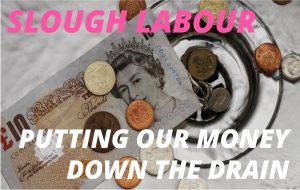 Slough Council. This bunch of crooked cunts are now telling locals that they may increase Council tax by between 12 and 20% , to compensate for the Council's catastrophic overspending and mismanagement.
The Council will apparently need Government assistance ( meaning the taxpayer of course) for about the next 8 years to stay afloat and has to sell it's stock of about 6,700 council houses, development sites and other assets, which still won't cover all the debt. Presumably this means any unfortunate Slough council tenant may soon have a private landlord who may want to increase the rent or get them out.
I sincerely hope every cunt in Slough marches on their headquarters with flaming torches. Best not hang about as it will probably be a Wetherspoons soon.
Nominated by: Mary Hinge
(And what happened to the incompetent councillors and senior executives, or did they just walk away unscathed? – Day Admin)