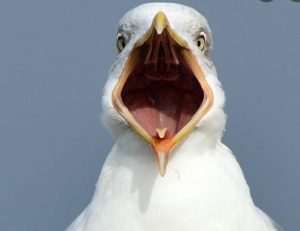 (Nicola Krankie offering blowies for a bag of chips – Day Admin)
"Don't feed seagulls because their poo pollutes the sea', campaign claims"
Yes and bears pollute the woods.
This (tax payer funded) gibberish comes from a charidee called 'Keep Scotland Beautiful' (Good luck with that! – Day Admin).
I presume these intellectual giants long for the old days when seagulls used the facilities provided, unlike the average Jock.
Apparently they are also combatting climate change. The charidee that is not the dirty arsed gulls. No doubt when it becomes wee Krankies fiefdom this lot will sort out climate change down as far as Berwick.
Nominated by: Cuntstable Cuntbubble