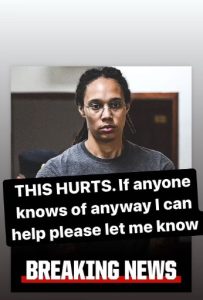 Freakily tall Yank basket ball star Brittney Griner or is that Brittney Grinder has had its/she/he collar felt by the Rooskies and given a ten stretch in the Gulag for attempted smuggling of cannabis oil. Apparently her Vape gear was found to contain cannabis oil secreted amongst the usual vape flavours of Dikes Delight and Munchers Magic.
Have to put my hands up on this one because I have to reveal a personal interest.
Cannabis oil is my lifeline, have a local filly who massages my lower back with the amber nectar and thereafter I can walk again. Many hours of bliss until the cunting pain kicks in again but no side effects. Only alternatives, a seriously dodgy operation to fuse my lower vertebra together with risk of paralysis if Mr Quack fucks the op or a lifetime on mega strength opioids. Mong time.
Hence my panic at anything that raises the profile of the old super oil and the consequent risk of marking old bill's card.
Apart from that with the above story we are in the slippery murk of a trans-gender-gawd-knows-what issue and with this old cunts limited knowledge of personal pronouns and such and the other I retreat to the rather useful and appropriately gender neutral handshake of "Comrade". Comrade Griner is married to another eh…Comrade and and we leave it at that.
Enjoy the full story here:  Daily Mail News Link
Nominated by: Sir Limply Stoke