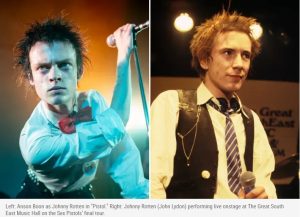 The first in perhaps an occasional series of nominations where the protagonist, previously cunted, goes someway to redressing the balance of their cuntitude. – Your Admin Team.
Not a Cunt?
This could possibly be a new feature on ISAC. When one nominates either someone they thought was a cunt, but something's made them change their mind. Or just somebody who simply just isn't a cunt and is an all round good egg.
For example: a good while ago, I uncunted Phil Collins on this site (when Phil called Paul McCartney a 'patronising cunt' and a 'fucking fuck'). But today my nomination for Not A Cunt is the legendary Sex Pistols and PiL frontman, John Lydon.
Johnny has been back in the news recently. For a start, he has rightly trashed that Danny Boyle and Disney shite that is supposed to be about the Sex Pistols. Just what the fuck is that supposed to be playing the part of the young Rotten? It looks like Marty Feldman with a punk haircut.
John is right, of course. How the fuck can they do a Pistols project without his input? He was the Sex Pistols, for crying out loud. I agree with John, the Disney-fied Pistols story is a load of crap.
Also, John now has his own fortnightly media platform: Johnny's Rotten World. Where the great man airs his views completely uncensored. (Here's a taster: Day Admin – You Tube Link)
Now, this is presented by Piers Morgan (who we will come to another time). But John's honest and sensible views are great to hear in this nuthouse that is modern Britain. In one episode, Johnny slams Boris, Labour, Prince Andrew, Justin Welby, woke, and Me Too misandry.
The man has cheered me up no end while I have been on dialysis. And it's great to see the old bugger still about and in good condition, as I know his beloved wife is very ill.
Nice to see he's as sharp as ever. John Lydon is a beacon in a crazy and woke world.
God Save John Lydon.
Nominated by: Norman