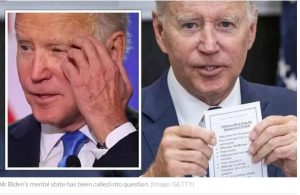 Wake Up Joe, You're On.
Senior moments and the odd brain fart are part of everyday life, forgetting to put the bins out or lock a door but can have serious real world consequences if you happen to be POTUS. The Hair-Sniffer-In-Chief has been pictured recently at a White House event with cue cards and childlike dictation instructing him to enter the room, say hello to the press, sit down and answer questions etc. It was the political equivalent of being spoon fed.
This is very simple stuff on home soil, but how is he going to cope with big international events like the G7 summit? I can just about pronounce Prime Minister Yoshihide Suga of Japan let alone some old duffer who is barely in control of his bowels let alone his faculties. Will he remember Boris? He's the fat cunt who's playing with his tie that's caught in his trouser zip. Olaf Scholz of Germany? Didn't you used to be Angela Merkel?
We will probably never know unless he pops a corker in front of the worlds press like saying he survived the Irish potato famine or watched the New York Yankee win the 1923 World Series, it will be ignored or covered up by Americas sycophantic pro-Democrat media.
Maybe we should all worry if pictured with a cue card saying 'South Korea = GOOD' – 'North Korea = BAD'. "What, there's a 'New' Mexico now?"
Time to have a presidential library named after you in Ballsackville, Iowa and fuck off into retirement Joe.
Nominated by: Liberal Liquidator