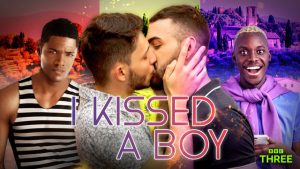 News just in from the BBC.
BBC Three has announced I Kissed a Boy (working title), a brand new dating show produced by Twofour and hosted by singer, TV star and LGBTQ+ ally Dannii Minogue.
This eight-part reality event follows ten single men as they head to Europe to find their Mr Right, and it all starts with a kiss. Before they arrive, the guys will be paired up with their strongest match and as soon as they meet, they kiss. No small-talk, no 'flanter', just one rom-com worthy moment that might just take their breath away.
Not my words, but those of our deviant national broadcaster wetting their knickers over a revolting new way of indoctrinating young people via teen channel BBC 3. And these cunts whinge about needing more of our money to produce quality programming. I advise not viewing the link if you've just eaten.
Nominated by: Field Marshal Cuntgomery
---
Another late entry this time from Sidthesexistsforeskin and his cunting on another BBC programme called "Dodger"
I want to cunt a program on the BBC.
Yes I know you can't cunt the BBC enough but this show on the BBC called Dodger is about the artful Dodger from Oliver twist,
I don't watch the BBC but I was visiting my nephew but he had his telly on and I had a quick enough glimpse of this shit show. I know it's a made up drama but it has gone full on ethnic!
It has black Victorian policemen, a chink female thief, a p@ki thief and various other ethnic other races , I didn't see any trannies or poofery but hey, it is the BBC and I am sure Victorian London didn't have this much ethnic types so it makes this programme a cunt and the BBC heading to the ubercunt league of megacuntishness