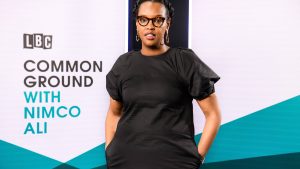 Let's hear it, for another self-appointed barack-room lawyer, who wants to give us her little opinions to make this country part of the "1984" prescriptive world.
Four eyed toothy mixture of dark key and mud slime (judging by the two names) – she of the "this is our music" sort of radicalism (close personals of Boris and Carrie – the latter more, I should think), wants wolf-whistles, "telling people to smile" and laughing in the street (at wimminz naturally, then men can go and fuck themselves), to become crimes, subject to an on the spot fine.
I guess this hoity-toity little tart is a lesbian lady. A pity she doesn't go and fuck off to a country that accords more with her joyless views.
Here she is in all her decaying splendour:
I confess if I saw Lady Nugee, Jess Phillips or Yvette Mini-Cooper in the street I WOULD laugh at them – and they should regard that as a compliment – they have a very funny act – a latter day Wilson, Keppel and Betty (ask your dads).
Nominated by: W. C. Boggs