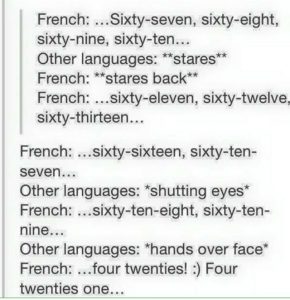 (I know the pic isn't about phrases, but it shows how seriously fucked up they are at adding up. Bon appétit!  – Day Admin)
French phrases in books, or anywhere else for that matter, when there is a perfectly suitable English equivalent.
Much favoured by authors over the decades, seemingly as a way of demonstrating superior intelligence, I find it fucking annoying.
As I'm not completely thick, I can work some of them out, but there are also many that require a visit to Google translate that fucks up the reading experience. (Most of these poncey authors don't even bother with a translation in brackets anymore) And quite often, the translation into English comes up with fewer words and syllables anyway, so why fucking bother?
And why does an author assume we know what they're on about? I wouldn't dream of assuming that Max Hastings would know how to fit a cam belt to a fiesta simply because I do.
It's time we gave these hackneyed French phrases the coup de grace.
Nominated by: Field Marshal Cuntgomery
Supporting link provided by: Miserable northern cunt
(Here's a few more French phrases for you clever intellectual cunts: Day Admin – Glossary of French expressions in English )