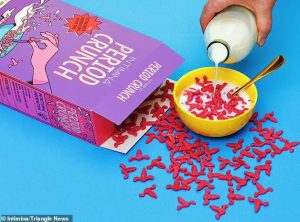 Apparently today's generation are not spending enough time talking about one of the most basic of human functions, namely menstruation. Odd that – you would expect the old love juice and whiffy pussy to be up there in the top ten of conversation starters but evidently no longer so.
In the light of which some Swedish outfit has launched a new product, a breakfast cereal called no, not Pussy Pops or Cunt Crunch but Period Crunch. This genius offering consists of cereal moulded in the form of the female reproductive organs and coloured with extract of raspberry juice and served with milk. It then dyes the milk a distinctive red. Very tasty.
Gynaecologist Dr Shree Datta:
"I look forward to Period Crunch kickstarting conversations"
Unfortunately early studies show that conversations about periods tend to dry up and lead to irrational and manic behaviour. I would recommend the old school approach of wanging me old cunt sniffer up there and breathing deeply and savouring the aroma.
For the younger and more callow cunter about to start upon the path of sexual enlightenment may I suggest the services of a working girl who will charge £30-£50 for the honour.
Further enlightenment here: Daily Mail News Link
Nominated by: Sir Limply Stoke
(Enjoy your breakfast, cunters! – Day Admin)