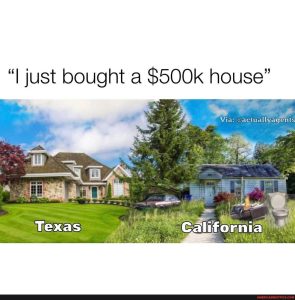 Following the recent nomination about selling a house, it seemed like a good idea to cunt buying a house.
This is what is happening in my local housing market. Some terminology is a bit Yank-centric so I'll explain as I go. One thing to bear in mind is the fundamental difference between the US and UK when it comes to buying a house. In the UK, the transaction is fundamentally a legal one, often handled by solicitors. In the US, it's fundamentally a financial transaction, handled by cunts of course, just not lawyer cunts.
The underlying problem is the local housing market has become "over heated". Meaning, the inventory is too low and the demand is too high. This has created a "seller's market". This used to mean prices are rising, homes sell quicker and at the listed price. However, this seller's market is hyper aggressive and completely hostile towards buyers.
Two factors are causing this situation. First, too many people are moving to the main population/employment centres in Texas (e.g. Dallas, Austin, Houston, etc.). Some major corporations have also relocated to Texas over the last couple of years including HP, Samsung, Tesla and Oracle.
Californians are waking up to the fact California is an over taxed, hyper-expensive shit hole. They are moving to Texas in droves, bringing their liberal, woke, democrat fuckwittery with them and driving up house prices. The second factor is Realtors (Estate Agents) are being complete cunts.
This is what is going on:
1. Preapproval.
Realtors are not allowing buyers to even view properties without the buyers being preapproved. This means buyers must go through the motions of applying for and securing a mortgage for a house which has not yet been identified. Basically, all the financing has to be in place and ready to execute. In times gone by you could still do this if you wanted to, but now Realtors have made it mandatory. Gone are the days when you could speculatively look at houses to see what you like/don't like, check out the local area, etc. That's over. Plus you'll probably only get one look at a house before having to make a decision about whether to buy it or not.
2. Blind Auction.
Buyers are being told to submit bids 10% to 15% above the listed selling price. The sellers and their cunt Realtors will then assess all the bids and choose which one they like. There was a time when offering the list price was practically a guarantee of getting the house, especially if other buyers were making offers less than list price. That's over. Realtors have effectively turned the housing market into a blind auction.
3. Option Period Fee.
If your bid is accepted, buyers are being forced to pay a non-refundable fee for the privilege of keeping their option to buy the property for a specific period of time. Previously this fee did not exist. It used to be that once an offer had been accepted, the buyer and seller were committed unless the buyer withdrew for whatever reason.
This fee can be anything from a few hundred dollars to a thousand or more. If you decide not to buy the house, you forfeit this fee. Some option periods are as short as 5 days. If you want a longer option period or want to pay less for it, your bid might be less attractive to the seller, resulting in your bid being rejected. So the game here is to over bid for the house and agree to a short option period with a high option period fee, then cross your fingers.
4. Appraisal Gap.
Several things have to happen within the option period. One is getting an appraisal. This is where you pay a fee to your mortgage lender in return for which they'll assess what they think the property is worth. That's the basis upon which they decide or not to lend you the money. In a market where demand is constantly pushing up prices, it's possible that the appraised value will be less than your offer.
This is called the Appraisal Gap. In order to get funding, your mortgage company makes you pay the Appraisal Gap up front in cash, otherwise they won't loan you the money. This uses up some of your cash reserves, lowers your deposit and will quite likely adversely affect the interest rate you'll get. All because the market is over inflated and Realtors are pulling list prices out their arses.
5. Home Inspection.
In the UK we do it properly by having a property surveyed by a Quantity Surveyor. The Yank equivalent is called a Home Inspection. These vary massively in price and quality. My overall experience of home inspections is they're a bit like your dad wandering through a house, frowning and rubbing his chin while saying things like, "Yeah, it looks OK to me".
The purchase of a house used to be contingent upon the results of the home inspection. If the home inspection report highlighted serious defects with the property (e.g. knackered furnace/air conditioner, dodgy electrics, non-functioning appliances, etc.) the buyer would use that to negotiate with the seller. The seller would either agree to fix certain things or discount the asking price and let the buyer deal with it. That's over. Sellers know that if buyer A pulls out because of problems with the house, buyer B will buy it anyway without any fuss. Consequently, buyers now have no leverage.
In summary, buyers are not allowed to view prospective properties unless they have financing ready to go. They're expected to over pay for houses whose prices are already over inflated. They're forced to pay a fee for the option of buying a house and pay in cash any difference between their offer and the appraised value.
Their cash reserves could then be further diminished by effectively buying a property with serious problems which they'll have to pay to be fixed. And the icing on the cake is, buyers are expected to make these financially important decisions at break neck speed based upon perhaps only a single viewing.
Bottom line is, if you agree to participate in this market you're agreeing to be ripped off on a massive scale. Fuck that!
What's your local housing market like these days?
Nominated by: Imitation Yank