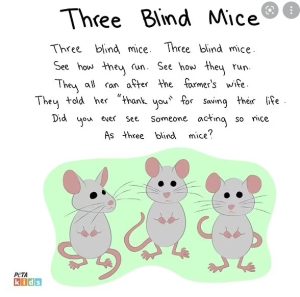 Just when you thought the mad world couldn't get any madder, some woke cunt comes along and decides to rewrite traditional nursery rhymes apparently so they could be kinder to animals. All courtesy of animal rights group PETA.
To quote PETA "And in the same way old songs and fairy tales have been given much-needed makeovers to replace racist, sexist, and otherwise insensitive language, we should make sure nursery rhymes are relevant for kids today and don't encourage speciesism, cruelty to animals, or fear of them."
Let's examine that
Baa Baa black sheep wants to keep all his wool. 'Baa Baa black sheep have you any wool. No sir no sir that's not cool'. Point one : wool doesn't even rhyme with cool.
Point two: if you don't sheer the shhep, the poor cunt is fucked by the weight of it.
And little Miss Muffett's spider isn't an animal. It's an arachnid so fucking get it right you uneducated arseholes.
And this little piggy is Vegan, ignoring that pigs are vegetarians in any case.
Pink Floyd summed it up beautifully when they wrote "leave our kids alone"
Nominated by: Pedantic Cunt