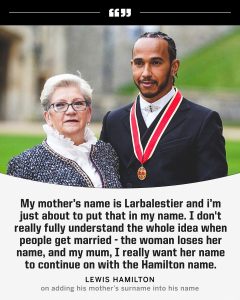 Sir Lewis Hamilton will soon be Sir Lewis Larbalestier Hamilton as he has graciously decided to use the maiden name of his mother who raised him until he was 12. This tribute should delight feminists as Hamilton says he does not understand why women "lose" their names when they get married.
However, this does not mean he will be cutting off his dreadlocks. As he once said in the Guardian (where else) '"My mum was wonderful. She was so loving," although he admitted she couldn't fully understand what he was going through as a young boy at school as she is a white woman."'
Read all about this latest thrilling instalment in the life of a living legend in "Vanity Fair", that magazine that is required reading in ghettoes from Moss Side to Minneapolis.
Link Vanity Fair
Nominated by: Mr Polly