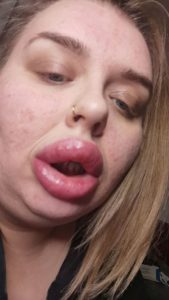 (Probably the best blow job ever for some desperate deviant! – Day Admin)
This made me howl with laughter.
The picture in the report! Oh, my days!
Why on earth do these silly tarts do stuff like this?
If it's not some idiot having the Greggs logo tattooed on her arse, it's another one driving all over to find the "best" sausage roll. As if a master baker goes into every shop at 3am to make the bloody things from scratch!
Then you've this loon ( and many others) getting injections of poison.
What could possibly go wrong?
I'd call her a moron, but think that'd be unkind to morons.
Nominated by: Jeezum Priest