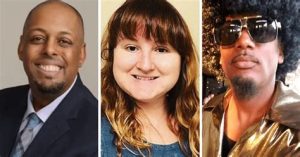 Diversity activism is a cunt, isnt it.
Over in Yankland, Hopi Elementary school, of the Scottsdale Unified School District, recently held a fundraiser to benefit the school. They hired a local DJ called Kim Koko Hunter.
Stuart Rhoden and Jill Lassen, two diversity activists (!?) were looking at photos of the event and were horrified to see the DJ in Blackface. Clutching their pearls, the two 'diversity in education' advocates blasted the school and PTA, both publicly and privately, accusing the DJ of wearing "blackface" and consequently slamming the school for their alleged racism.
Quite right too. Disgraceful. Can't be allowed.
Wayy-ciists!
👱🏿‍♂️
There was only one problem; the DJ was actually black.
👲🏿
It's almost as if these woke maggots are searching for reasons to be offended. What prompts somebody to become a Diversity in Education activist?
Money?
Power?
Virtue-signalling?
Being a cunt?
Fox News Link
(Additional informative link provided by Part Time Admin – PTA)
Nominated by: Captain Magnanimous
---
and on the subject of "black faces", here's one from Liberal Liquidator
Blackface Blackface.
After the Jussie Smollett fake non-homophobic non-racist non-hate crime, you would have thought those pointing the finger would be more careful with their shit slinging, well you would be fucking wrong! Here is a pearler from Scottsdale, Arizona.
Yes it would seem that there are not enough MAGA hat wearing white supremacist Trump supporting Nazis to go around so now they have started accusing black people of wearing blackface. The pair of cunts who made the accusation work for the district PTA advocating diversity – not diversity of a working brain cell it would appear and will probably get a slap on the wrist and maybe some extra diversity training.
Personally if I was organising this fundraiser I would have gone with a professional and hired Canadian PM, Justin Trudeau.
"Ebony and ivory…..
Live together in perfect harmony"………..