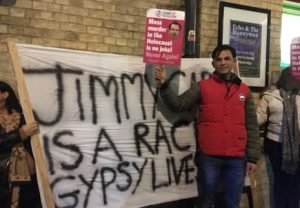 Things have come to a sorry pass in Orwellian Britain where you can now be imprisoned for telling a joke.
Paul Busetti shared a crude joke on a private YouTube channel about the Grenfell fire. It was a cardboard model of the tower on fire. The faces of residents were painted in the windows. In the video Busetti can be heard saying " that's what happens when you don't pay the rent".
Yes, it's pretty tasteless. But so what. What's more tasteless is the fact that Busetti has been sentenced by Westminster Magistrates Court to 10 weeks imprisonment, suspended for two years.
Since when is sick humour a criminal offence punishable by imprisonment? Should the likes of Jimmy Carr, Frankie Boyle and even ourselves here on ISAC face imprisonment for the odd borderline joke? Jail time might be good for Carr and Boyle ( a pair of cunts) but it would grieve me to see Lord Fiddler banged up (although there might be some comedic value in it, I suppose).
No one should serve time for a joke even for an offensive one. A joke is not a violent act. No one is physically harmed and no property is damaged or lost. The problem is that the Blob has decided to equate thoughts with violence. It's now criminal to think or say certain things – usually involving effniks. But Western Liberalism traditionally said that freedom of speech and thought is sacrosanct.
We have taken a seriously wrong turn. The sentence handed to Mr Busetti is deeply illiberal and worrying. Welcome to Oceania.
Cunts.
Nominated by: MMCM