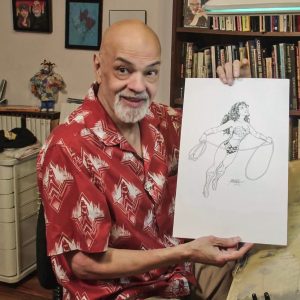 Congratulations to Shaun ( i.e me) who correctly predicted the celebrated comic book artist and writer George Pérez would be the next dead dude.Pérez was 67 and known for his 45 year career in comics writing and drawing for Wonder Woman ,Superman, Teen Titans, The Incredible Hulk and many other famous comic strips. Perez retired due to ill health in 2019 as diabetes had severely damaged his eyesight. He died yesterday from complications from cancer and is survived by his wife brother and parents.
On to Deadpool 245
The rules.
1)Pick 5 famous cunts you think will die next. It is first come first serve. You can always be a cunt and steal someone else's nominations from previous pools.
2)Anyone who nominates the worlds oldest man or woman is a cunt and will be ignored.
3)It must be a famous cunt we have heard of.
4)No switching names mid pool unless they have already been taken.
5)Please check your names haven't already been nabbed as we cant be arsed to check.
########## New clarification. Pool victories will be awarded in order of death announcements being made. Otherwise it becomes too complicated as there are time differences in different countries and if a death is announced a week later that is potentially 3 or 4 pools that get cancelled out and I personally cant be arse to deal with all that .Any massive objections let me know in the comments.(Shaun)