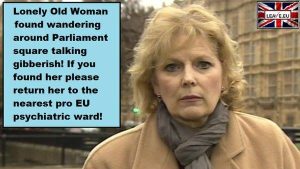 Long time, no whine, but here she comes again, backing fortissimo into the limelight – ex Remainer fanatic Conservative MP Anna Soubry, whose dreams of greatness ended many years ago, but like the old trouper she is, the silly old tart – the pure brass of the Westminster music hall, is giving her act another airing:
I would have thought she would have approved of the drinking culture – after all it has often been alleged she herself could get as pissed as a fart – what motivates the old cunt to keep on making a fool of herself? – no doubt the proposed idea of a Labour/LibDem pact and the two faced cunt that is Starmer reversing Brexit.
While mentioning the flabby faced son of toil again, it is worth pointing out that the old poofter Chris Bryant is talking about "standards" again – how does he keep a straight face?. It's the way he tells them, ducky.
He also claims to have been "touched up" himself in the HoC – I thought that was his reason for going there in the first place, to join all the mincers and benders on the Labour benches. At least Corbyn used to keep them on the back benches and not as shadow ministers.
Nominated by: W. C. Boggs