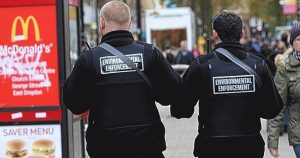 Enforcement Officers are cunts.
Enforcement Officers, or as I call them 'Plastic Policepeople' are effectively a 'high & fucking mighty' bunch of cunts!
The word 'enforce' surely means 'You will do,' rather than 'encourage,' which I would prefer to be used. Cuntfrontational is all I see, as the Railway Enforcement Officers, strut around in their hi viz, looking very important, as if they are enticing someone to 'have a fuckin'go!' & then there's the Parking Enforcement Brigade, formally called traffic wardens, that did come with a proper uniform, & are now a bit of a mixed bunch.
But the worst cunts of all are the Environmental Enforcement Officers, yes, the ones that hide in the undergrowth, waiting for you to drop an apple pip, when they will jump out & say "I saw that! I've got you on camera! You won't get away with it!" So bugger me, that's another 80 quid on top of the last one, for when I got caught for fly tipping that double king size bed last week.
But seriously, these cunts also work along side the police in cities, where I have personally seen them use unreasonable force, on lesser mortals, like genuine homeless people, & those not even considered a threat. I don't think they do a jacket for alcohol enforcement, but I would gladly steal one of them jackets just to wear in my local!
Nominated by: Lord Scunthorpe