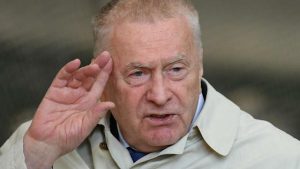 Congratulations to yours truly (Shaun) who this time has actually won the Dead Pool by picking Vladimir Zhirinovsky the Liberal Democrat party leader in Russia who predicted almost to the day the Russian invasion of Ukraine having been a close ally of Putin`s.He died today after a long illness aged 75 .He contracted Covid in February and never fully recovered despite being vaccinated about 8 or 9 times.
On to Deadpool 243
The rules.
1)Pick 5 famous cunts you think will die next.It is first come first serve.You can always be a cunt and steal someone elses nominations from previous pools.
2)Anyone who nominates the worlds oldest man or woman is a cunt and will be ignored.
3)It must be a famous cunt we have heard of.
4)No switching names mid pool unless they have already been taken.
5)Please check your nanes havent already been nabbed as we cant be arsed to check.