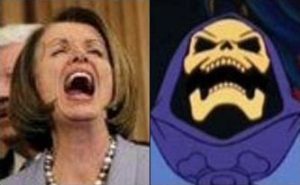 Nancy Pelosi
I cannot get Joe's exact quote but it was something about soldiers inhaling smoke from 'burn pits' or something. The govt going to stop this.
Nancy slowly rises (not unlike some ghostly wraith she rises… like smoke herself). She starts rubbing her knuckles together as though trying to make fire. She licks her lips as she rises. She is happy. Joe gets to the 'burn pits' bit and she seems ecstatic, rubbing her fists together, a face of glee.
Then she seems to come to herself and slowly sits back down again.
Kamala looking askance I think. Joe totally unaware. Well, he always looks unaware.
Poor Nancy she's been a politicians since the year of Job.
Time to take the keys away from grandma this time.
Nominated by Miles Plastic‌