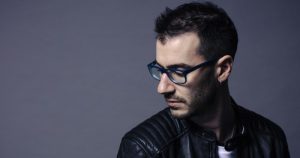 I'd like a beardy-weirdy beatbox cunting for Shlomo, if you please, for his pathetic outpourings:
https://www.isingmag.com/mental-health-sk-shlomo-on-depression-ptsd-and-singing/
Now, I'm not knocking his abilities, I couldn't do that shit (nor would I want to), but even though I'd never heard of the cunt, when I saw that his piece on the Karl Marx Broadcasting Corporation had PTSD in the description, I took a bit of an interest.
With a name and schnozzle like his, I realised he was a tin lid and thought maybe in his youth he'd been in the Israeli mob, taking pot-shots at Yasser Arafat's rocket firing, dish-dash wearing peace lovers in the Gaza strip. I daresay he'd see one or two things that might stay with him if he had. But no, it transpires that the 'highs of live performing' were no longer enough, he felt 'empty'. So he decided to become a recording artist …then had a breakdown – the mental kind, NOT a flat tyre. He'd 'pretended he'd been coping' but finally had to 'reach out', whereupon he was diagnosed with depression and PTSD, apparently because he was a reformed piss-head. Baffled? Yeah, (hashtag) me too.
Now, I've seen one or two things in my military career that might cause PTSD, it hasn't done so with me because I'm a cold-hearted bastard when it comes to it, but I can understand why true horror can affect some who witness it. But Shylock, or whatever the fuck your name is, coming off the booze and working hard for a few years is not a horror story. In short, stop feeling sorry for yourself and get a fucking grip man!
There is a trend nowadays of any cunt who's missed the fucking bus and had to walk home claiming they've got PTSD and need therapy. It's a fucking joke and cunts like this, who 'share their story', are just encouraging it. Just fuck off and get on with it.
Nominated by The Stained Gusset