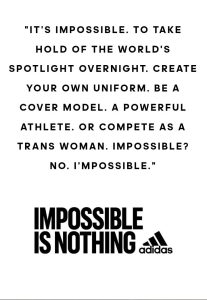 I'm cunting these German cobblers for a load of old cobblers, namely, their new advertisement campaign.
Pushing forward a 'brave' peaceful for pissing and moaning (trouble making) until she got to play basketball in peaceful gear.
Even worse, their pushing of 'brave, unstoppable' trans athletes (cheats).
Well, as we all know. It will lead to unstoppable cheats, I mean 'athletes' winning all the women's events.
I do feel sorry for the genuine female athletes losing out to these cheats, but most wimminz seem to support this shite, so fuck 'em. Reap what you sow.
Still, no need for Adidas to jump on this shite too, the fucking bellends.
https://www.adidas.co.uk/impossibleisnothing
Nominated by Cuntybollocks