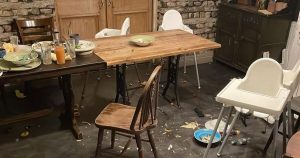 Family of thieving cunts, i know all restaurants are struggling at the moment, its a fucker when people book tables and dont show up, cunts pull a pube out of their kiesh and then demand a freebee or they leave a bad review.
But the worst are when you have a group of utter cunts in [ suspect a group/ family/s that get lots of negative press anyway] order a load of the most expensive food on the menu, drinks and then leave you restaurant looking like the camp they came from.
What a bunch of inbred knuckle dragging thieving, lying, cheating fuckwit cunts, its a shame these fuckers breed like the rats that they are….
Nominated by: Fuglyucker