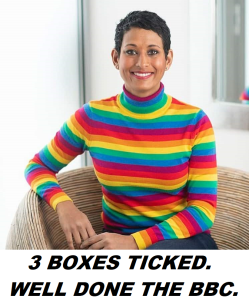 It seems the modern way to present TV now is to do away with received pronunciation and bring in people who 'doesn't talk likes I does'.
(Received Pronunciation is the accent traditionally regarded as standard for British English – NA)
Now, I don't mind people presenting if they don't have received pronunciation, but they seem to seek out 'efniks' and ignorant types who sound like they have the IQ of an ameoba. They also seem to have an annoying habit of taking like they're presenting a kids television show, even if presenting crime documentaries or sporting events.
At least get someone on who doesn't sound like they've just done a drug deal on a Peckham street corner for 'fack's sake!'
All box ticking bollocks.
And no, I don't pay the BBC licence before you ask, I just caught a bit elsewhere. I'd like to watch sport again one day, without getting fucking annoyed, but it seems that's not going to stop anytime soon.
Cunts
https://inews.co.uk/sport/olympics/bbc-winter-olympics-commentators-beijing-2022-line-up-presenters-pundits-every-sport-1443655
Nominated by: Cuntybollocks