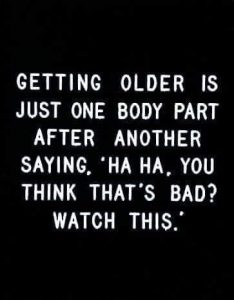 I used to think that saying meant that when your body is feeling something, anything, you should actually consider that a signal for something.
Not anymore. Since entering my late 50s, I've found that I really don't have a fucking choice about listening to my body anymore.
Dear cunters, I'm sure most will think " at that age, yes, you should be aware of what your body is telling you ". Well, like I said, I don't have a choice.
From the moment I awake, all I can hear is my belly, my arse, my joints, and now I've got fucking tinitus. I'm really looking forward to going deaf.
Getting older is a right cunt if you ask me.
Nominated by: Cuntington Smythe