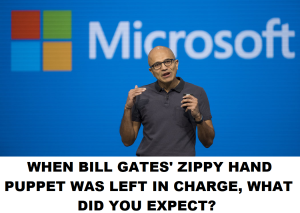 Yes, that old English idiom, which basically means if something is working perfectly well for the majority of people, then please don't go round by trying to improve it because more often than not it achieves the direct opposite.
In this case my line of fire is directed fairly and squarely at those cunts at Microsoft HQ. We all know about their half-baked operating system releases over the last few decades; we all know how they fuck about with their headline applications such as SQL Server (which they stole from Sybase in 1993, carry on – NA), Visual Studio and Microsoft Office. We all know how they rarely, if ever, listen to public feedback in order to "make Windows better".
Instead they just do their own thing, determined to make life difficult for their punters by tinkering with existing applications and over-engineering them to the point whereby cunts like me and many others have to relearn how a perfectly good app in the past is now something totally different and actually achieves far less!
Installing Windows 11, for example, was not only a big bloody effort, but also a PITA because the Redmond cunts have given the front end GUI a complete makeover, as well as fucking about with some tried and trusted settings such as Task Manager (moved from the Task Bar), the Task Bar clock (which won't display seconds anymore) and Task Bar itself (difficult to customise and group apps).
Not only that but they've fucked about with pre-installed apps such as Photos with more over-engineered bollocks, some of which are admittedly welcome additions. But by the same token they decide to get rid of certain functionalities within an app for no apparent reason, leaving you, the mug punter, in limbo as you look for alternatives.
For example, their Photos app had a very good tool called "Spot Fix" and "Red Eye" ,which removed dust and blemishes and corrected a person's eye glare in a photo. This was hugely useful and simple to learn. But that was in a previous release of Photos.
Now, Microsoft have released a new version of Photos and got rid of "Spot Fix" / "Red Eye" with no direct replacement. So that means if you're trying to clean a shedload of photos you're now fucked because Spot Fix has gone, and you're gonna have to relearn with a 3rd party app bolted on, which may or may not be free..
But its not just Microsoft that can't resist breaking things, Apple. Android, Linux – they're all at it. Developing improvements to an app but getting rid of perfectly good functionality, and then expecting us to be eternally grateful for their hard work.
And it's not just IT products where this kind of over-engineering goes on – tablets, cameras, phones, televisions, car dashboards,  washing machines ..and on and on… Product designers bring out extra features that serve little purpose other than to confuse as you read through the 90 page user manual. They get rid of things, rename things, move things, make things look really modern with lots of lights and buttons. But don't really achieve anything.
Yes, I understand products have to evolve and become better over time, but to reduce its functionality and/or over-engineer something just for the sake of it is not the way to treat their customer base. Especially if time is a factor and you really don't want to spend even more time having to relearn all over again.
If it ain't broke, leave the fuck alone. Please!
Nominated by: Technocunt