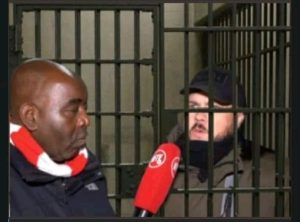 Mr DT
For those who don't know who this cunt is, he's one of the regular bellends on the abomination that is AFTV (Arsenal Fan TV – it's on YouTube).
He became so 'famous' companies like Paddy Power had him on their adverts (he's the cunt that says, 'We are still a superclub').
In recent times, he got into a 'flame war' (this manchild is in his fucking 40s) with another YouTube bellend and ended up in an embarrassing (and funny) headlock, after playing the hard man in a football match, in which he was hilariously fucking terrible.
Instead of leaving it there, he ended up kicking off again and offered some YouTube cunt to a fight. When the other party accepted, he said he had some kind of stomach injury which meant he 'could die' if he got hit there.
So he sent his skinny 18 year old son to fight for him instead. Of course, his son got twatted by the stronger bloke, who looked to be in his late 20s to early 30s at a guess.
What sort of cunt does that?
Well, the sort of cunt who unfurled banners ('Wenger Out' etc) after Arsenal came second in the Premier League (they can only dream of such heights now) under Arsene Wenger, towards the end of his reign. He was the cunt that started the 'campaign' to hound out the greatest manager in the club's history.
Mr DT is the sort of cunt who then tracks his unwitting ex girlfriend with a GPS tracking app. Who then jealously tracks her down and assaults the new boyfriend. The sort of cunt who threatens an ex with a knife and kidnaps her, by saying he has her kid.
Well the cunt has just got three years. Should've been twenty.
Yes, he was a huge supporter of the knee bending and rainbow gayness shite, unsurprisingly (told you he was a cunt).
Arsenal, a club I supported for 40 years (the knee bending/gayness shit stopped me) has the worst fans on Earth.
https://www.standard.co.uk/news/crime/dt-from-aftv-youtube-arsenal-jailed-stalking-b977148.html
Nominated by Cuntybollocks