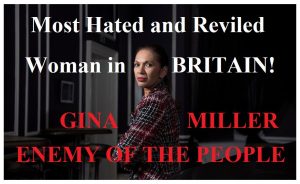 Just in case this raddled looking old tart had disappeared from your memories, or you thought she was dead, join hands and contact the living while I re-cunt the egotistical old cunt.
A couple of years ago she started the True and Fair party, but Boris rather stole her thunder, but low and behold, yesterday, now Boris has fallen from the Rolls Royce of politics into the three wheel Robin Reliant of shame, all the spiteful old Remainers – Gaylord Adonis, Alcoholic Alistair (Campbell) the absurd bloated old shit-stain A.C. Grayling and ME-ME-ME Gina has all jumped on their shagged out old bandwagon on SM and she has announced, as is for the first time her flea-ridden old party, as breathlessly announced by The (Not-So) "Independent":
Boris has behaved very foolishly, not least in not resigning. If the Conservatives lose the next election it is a £1000 to an Elvis Presley 78 that Starmer will use it as an excuse to rejoin the EU, and stinking piss stained old bags like Miller and the afore-mentioned characters, and the LibDems, who would probably be needed to push Labour across the winning line – they would demand rejoining the EU as their price for propping Starmer and the shits up and you can just see the greasy looking turd rubbing his hands with glee at the prospect, "We had to do it" would be the old bastards excuse.
Nominated by W.C. Boggs
Additional link supplied by Sick of It