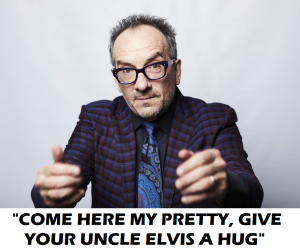 A nomination for Elvis Costello, who has now (42 years later), asked radio stations not to play Oliver's Army due to the lyrics including the word n*gger.
Agreed that it's an unpleasant term, but he was quite happy to earn royalties from it since 1979.
It would be even better if he asked radio stations to cease playing his stuff full stop, especially that dreadful dirge 'a good year for the roses'. They must have used the rest of his shit songs as compost for that bountiful crop.
https://www.yahoo.com/entertainment/elvis-costello-urges-radio-stations-143958047.html
I never bought in to his nerdy image with his plain glass NHS specs, I just regarded him as a cunt, even then.
Nominated by: mystic maven