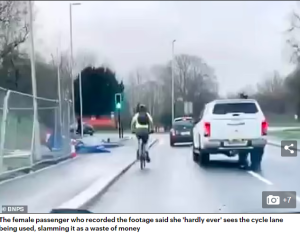 Cyclists are and will always be cunts, also government schemes for these wankers are proving to be a waste of time.
While Boris and his chain of fools are altering the highway code giving these lycra clad fuck monkeys right of way in the daftest situations, to the point where we will see lots of badly injured cyclists, hit and runs and crash for cash claims.
Anyway, even by putting in cycle lanes, widening pavements and losing road lanes to make the space, these dozey twats ignore that and still ride in the road, except now they are in the middle of the lane doing their best to hold up the traffic and yet when they come to a red light they then go strait through without a care in the world.
This is going to end in tears I suspect,they are still the softest thing on the road and are going to find that with the state of modern driving they really are putting themselves in harms way.
I'm going to watch ensuing carnage with interest, if there is a saving grace I think the culling of cyclists is going to be new sport for motorists.