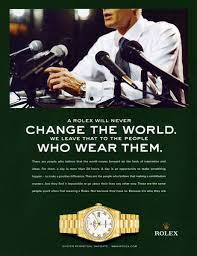 Rolex is the ultimate elitist look at me toy. However, Rolex tries to give the impression that the buyers of its expensive watches are not vulgar arrivistes who want to draw attention to themselves but creative, caring types who are shaping our world.
Read this puff from an advert in the latest "Person of the Year" edition of Time magazine: "Celebrating those who shape our world. The explorers, the trailblazers, the innovators, the ones who forge new paths. Who aren´t afraid to innovate and evolve. They know their work must not merely respond to the world around them but help build a better a better one. These are the people who inspire future generations to have a lasting impact. And through this, shape our world."
This gush is accompanied by photos of Rolexers who are presumably world shapers. Apart from Martin Scorsese, James Cameron and Roger Federer I haven´t heard of any of them – Sylvia Earle, Sonya Yoncheva, Jonas Kaufmann, Gustavo Dudamel, Miranda Wang, Gregoire Courtine, Hindou Oumarou Ibrahim, Andrew Bastawrous and Yuja Wang. Have you?
BTW if you are thinking of buying a Rolex then be aware you will be spied on. I recommend this insightful video.
Nominated by: Mr Polly