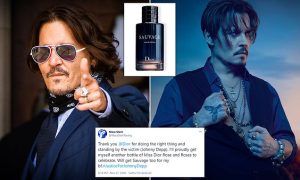 Johnny Depp and his advert for 'Sauvage' perfume.
I don't like most adverts but the one Johnny Depp does for perfume deeply irritates me.
He's wearing mascara like a bird at a works do,
Leather pants and waistcoat,
He strums a guitar,
(Its Jimi Hendrix version of "wild thing")
And wolves start howling
Accept they're dogs not real wolves,
And they flock to him while he tries to look moody and enigmatic.
Well, to me, a middle aged millionaire is hardly a figure of wild rebellion?
The only cunt who's got away with leather strides was Suzie Quattro,
And when I see mr Depp I think
"Your missus battered you and took a shite in your bed"
He's no rebel.
I'm more a rebel and I go to bed at 11pm.
I was Johnny rather than flogging gay perfume id learn kung fu and protect myself against getting beat up off girls and id insist on real wolves.
The fuckin little tart should also wash that makeup off.
You Tube Link
Nominated by: Miserable northern cunt