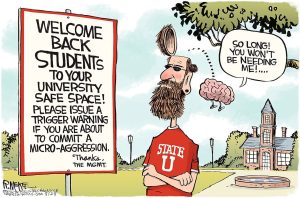 New Cambridge University students were getting pictures taken by an older photographer who, at the end of the session, said that if the "ladies" couldn't get down from the platform, perhaps some "gentlemen would be willing to help".
This led to a letter of complaint from the students asking that the photographer (who is not university staff) give a formal due to him creating a "targeted atmosphere of inequality" where students were "made to feel unsafe". It's recommended that he is not put "in proximity to students" again.
Equating language, even civil language like this, to violence is quite obviously an absolute cunt. I won't go into what I think it will end up creating, but it's definitely not good.
Nominated by: Cunt Dreamboat
(Presumably therefore, there will be no more "Women and children first" when a disaster strikes!? – Day Admin)