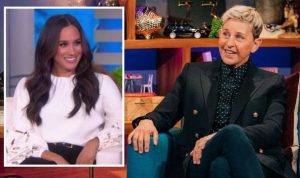 'Be kind' was the slogan on Ellen.
Turns out she wasn't very kind. In fact she was downright unkind according to employees.
I actually thought the show had been cancelled because of these revelations. Seems not. Or Maybe this was a one off.
Anyway, who does she have on? Someone she would recognise certainly. I mean recognise in the type of person she is.
Yes Ellen has sat down for a cosy little chat with her 'friend' Meghan Markle, the Duchess of Sussex.
Ellen as I've said has been exposed as a not very nice person. And her guest (if you believe her father and other close relatives) is not a very nice person either. So two well known people known to be not very nice in private are in the public arena trying to be nice.
But its what happens next that says it all. Yes its 'prank' time. With an earpiece in (by which Ellen can give instructions) Meghan goes outside onto the street. There are what look like fairly poor looking Latino vendors.
Meghan is told to mew like a cat at one of them which she does. The vendor looks bemused. Then Ellen tells Meghan to squat down for no apparent reason. This Meghan does. Then she tells her to drink from what looks like a baby's bottle (maybe Lilibet's). Then asks her to nibble something like a chipmunk. Then to perform like a kitten. The vendors looked bewildered. In fact all the vendors seem perplexed. No one was laughing.
Ellen joined her on the street to tell everybody it was just a prank.
It has been described as 'toe curling' stuff, of crushing 'cringeworthiness'.
Ellen and Meghan. How very deserving of each other.
Nominated by: Miles Plastic